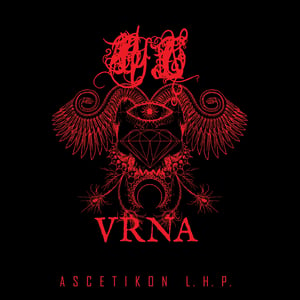 €

21.00 - On Sale
ASK FOR VINYL SHIPPING COSTS
ALSO DIGITAL FOR SALE HERE:
https://bathorylegion.bandcamp.com/album/ascetikon-l-h-p-2
"Ascetikon L.H.P." New full lenght 4 hands composed by Bathory Legion and Vrna.
Total black vinyl comes in total black sleeve. A4 insert with artwork plastic coated. Booklet 6 panels insert 300gr. plastic coated. Hand-numbered ltd. and ultra ltd. special edition.
A fine composition of complex elements, acoustic and concrete sounds. From the underground world through the vortex of esoteric ascent to raising the essence of the inner Black Diamond.
Mixing by John Stillings [SHP - Malignant Rec.] and Bathory Legion.
Cover Artwork by Bathory Legion and Vrna.
Booklet and graphics by Bathory Legion
The album will be distributed by Cold Spring Rec. and Planetaria Store
planetaria@live.it
1. Ctonio 02:27
2. Aokigahara 09:40
3. Palo Mayombe 08:17
4. Miira 06:59
5. Event Horizon 02:53
6. Adamas Ater 08:09